Trail:I-5 Colonnade
From Evergreen Trail Guide
Name
I-5 Colonnade
Tech Rating
Grunt Rating
Singletrack
100%
Fire road
0%
Paved
0%
Total trail
0.5 mi.
Alt. change
50
Latitude:
47.634902
Longitude:
-122.323279
Nearest medical:
Not set yet
Page adopted by:
R1de
Get Directions
Trail Description
I-5 Colonnade is the first ever urban mountain bike skills park. It's part of a City of Seattle park, but was funded and constructed by the Evergreen Mountain Bike Alliance (formerly Backcountry Bicycle Trails Club). The park features a novice area - the Tqalu Trail; an intermediate and advanced area - Limestone Loop; a dirt jumping section; pump track; trials area and more.
The Tqalu Trail
The Tqalu TTFs are in the range of 1 to 2 stars for technical difficulty.
Features:
Ladder bridge
Rock chute
Log rolls and skinnies
Limestone Loop
Offers a 1/2-mile tight'n'twisty Cross Country loop with several intermediate to advanced options. It's a great place to work on key skills by sessioning:
Tight switchbacks
Ladder bridges, log rides and skinnies
Steep rock chutes and technical rock rolls
Suspension bridge
Rock step-ups
A long ladder bridge roller coaster ride (be careful to keep your speed waaaay down... she bucks!)
The Limestone Loop TTFs are in the range of 2 to 4 stars for technical difficulty.
Advanced Area
Features:
More flowy advanced trails
Jumps, berms and wall rides
Long, narrow, elevated skinnies
Progressive and elevated drops
Steep rock chutes
Pump track
Trials area
The TTFs in the advanced area are just that - advanced. Prepare accordingly!
How to find it
Colonnade is located between the Capitol Hill and Eastlake neighborhoods, under the I-5 freeway, more or less below St Mark's Cathedral. It's where Lakeview Blvd turns underneath the freeway and turns into Boylston Ave. There are multiple entrances, but the best for parking is on the east side of the park off of Lakeview Blvd E.
East-side / Lakeview-side Entrance: 1800 Lakeview Blvd E, Seattle, WA 98102 (Google/Yahoo maps will get you there). Parking is available on Lakeview Blvd.
West-side / Eastlake-side Entrance: 1800 Franklin Ave E, Seattle, WA 98102 -- at the intersection of Franklin Ave E & E Blaine St. (Google/Yahoo maps will get you there). Limited parking is available on Franklin Ave and on some of the side-streets.
If you're headed north on I-5, take exit 168A for Lakeview Blvd. Take a left onto Lakeview and immediately park on your left. The bike trails are on the west side of Lakeview.
If you're headed south on I-5, take exit 168A for Boylston Ave / Roanoke St. Merge onto Boylston and go straight at the light. Follow Boylston south, paralelling I-5, veer left under the freeway, and then park on your right.
Map for Lakeview Blvd entrance.
Map for Franklin Ave entrance.
Typical Conditions
Because Colonnade is primarily under the elevated spans of I-5, the surface of the main riding areas are mostly dusty and dry. However, there are several areas exposed to rain and a few trails under some new freeway leaks. When water hits the local moondust, things can get pretty slimy... so be careful after a heavy rain. Check things out first!
Skills classes are occasionally held at Colonnade; check the evergreen calendar for any up-coming events.
Note that Colonnade can eat up bikes and be quite challenging - it would be nuts to ride here without a helmet, and full face helmet and/or body armor is advised for the tricky areas.
Current Conditions
Solid. R1de 15:59, 29 May 2011 (PDT)
Park Maps
TTF Maps
TTF = Technical Trail Feature
Local Points of Interest
Closest spot for food & beer is Pazzo's, a pizza place on Eastlake Ave just downhill. Closest bathrooms are at businesses on Eastlake as well.
See this map for locations of nearby coffee, pizza, convenience store, and nearest bike shops.
Misc. Information
Historical info: Colonnade Project Page and Colonnade Phase 2 Page.
Colonnade in the Media
Photos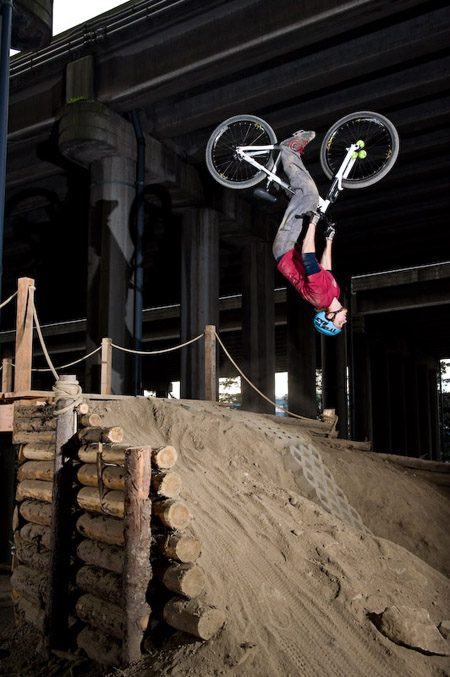 Pics on the web:
Videos
New
News & Documentaries:
Pros at the 'Nade:
The Builders:
Older: